Bible Studies and Book
HE IS… THEREFORE I AM
Co-authored with Julie Turner
A seven-week study designed to move what the mind knows to be true about God into the heart. Each week examines one attribute of God's character and encourages participants to embrace the corresponding truths in their own lives. Available for purchase on Amazon. Suitable for individual or group study.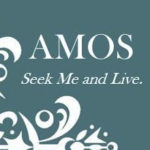 AMOS
Interested in an in-depth look at the Old Testament book of Amos? Contact Kirsten to obtain this nine-week study. Questions will be sent to you directly via PDF in one batch. Weekly commentary arrives in your email inbox once a week according to a start date of your choosing. Suitable for individual or group study. View the introductory video here.
GOLD, FRANKINCENSE & MYRRH
This three-week Advent study is rich with content while not being overwhelming during the chaotic Christmas season. Delivered via email; contact Kirsten to subscribe. Suitable for individual or group study.
I enjoyed Kirsten's online Bible Study.
It was easy to keep up with the readings. Her
questions were thought-provoking and life-equipping.
—Erma H., Boise, ID
ADVENT WITH THE WORD
Christmas can be different this year. All too often Christmas is robbed of its significance by the cultural demands of harried schedules and shopping lists. Find Jesus, the Word made Flesh, in these daily devotionals based on the rich, original language of the Bible. Each day's reading is simple and brief but honors the profound depth of the divinely-inspired Scriptures. Experience the fullness of Advent with new meaning this year through the intentional application of God's living Word in Advent with the Word. Available in e-book format fall of 2018.
Getting a new perspective with the daily words has helped me have a deeper appreciation of God's gift to us in His Son.
—Cassie C., Dallas, TX
Other places to read my writing
Our Daily Bread
Click here for my articles
Get your hands on this little devotional by subscribing via email, their app, or even the good, old-fashioned paper version...
(in)courage
The prospect of moving 800 miles away filled me with grief. As an introverted person, anticipating the loss of the friendships I'd built over many years was deeply painful. I was, in many ways, ready for a new adventure, but the thought of starting over relationally was a heavy weight in my heart.
After ten and a half hours on the plane from Frankfurt, Germany, preceded by a four-hour layover in the Frankfurt airport, and a three and a half hour flight from Moscow, Russia, I was exhausted. Our itinerary was made all the more challenging by the fact that my husband and I were in the company of two toddler boys who didn't speak a word of English...
SheLoves Magazine
Leaving Yekaterinburg with our Son
I knew right away. It just felt different somehow. As a mother of (then) five- and nearly three-year-old girls, I'd perched toddlers on my hip innumerable times. I'd mastered the art of wiping counters, answering telephones, and skewering juice boxes with a straw one-handed, while cradling one of our daughters with the other arm...
Boise Christian Living
Christmas Upside-down
Senseless, untimely deaths. Inexplicable illnesses. Life-altering diagnoses. Strained relationships. Financial distress. Loneliness and depression.Weariness and fear. All juxtaposed against the holiday that's supposed to be happy...